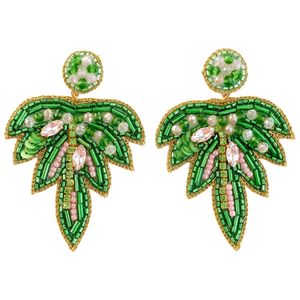 Our Palm Beach Earrings are designed by us in USA and handmade in Jaipur, India by women artisans using high quality beads, gemstones and crystals, they are hypoallergenic with a 14k gold plated post. Their base is a very soft suede fabric, making them VERY lightweight. You will not feel you are wearing earrings!
These earrings look even more beautiful in person!
*Product care. We recommend not exposing the earrings to humidity and or water due to the cloth base. Storage should be in a dry space at a regular room temperature (68-77*F).